Artist Name: Muzical Mind Yo!
Artist Genre: Pop
Years Active: 2022
Record Label : Independent
Notable Work: Dhakk x Badmashi
Independent Singer & Lyricist
Muzical Mind Yo! Is an Indian Singer. His big break came with his first debuted track "Nvaa Saal", which was released on Jan 2nd in the  year 2022. In his song he described the pain of broken hearts on the special occasion of new year and that song is also written & composed by him.
He has completed his schooling from Heritage Public School, Bhawanigarh, and has two elder sisters. He is son of Mr. Vinod Sharma,who is a professional property dealer and his mother Mrs. Parveen Sharma is a house-wife. Muzical Mind Yo!'s family belongs to Bhawanigarh (District Sangrur).His Grandfather, Late.Baldev Krishan Sharma,was a professional poet.
Now his name is rapidly shining in the Punjabi pop industry, with hits like 'Dhakk x Badmashi', Muzical Mind Yo!,20, a Bhawanigarh-born boy,is rising to the top after a lot of struggle.
He has been interested in music since his childhood and in his 6th standard he wrote a song for the first time.
During the COVID lockdown, he was totally free and wanted to learn the music production. Then, he started learning music from YouTube videos and because of his hardwork and affection,he became a professional music director. He composed many songs like 'Last Wish','Nain Kamle' and many more. We all wish him to give us such kind of record breaking songs.
For more musicianship,  support this star with more and more love and affection.
See the latest releases by Muzical Mind Yo!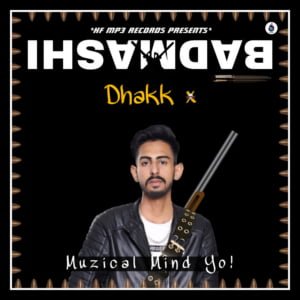 Dhakk x Badmashi
is available now on all the music streaming platforms.
Bad Break is available now on all the music streaming platforms.
Muzical Mind Yo!'s upcoming catalogue's
Connect with Muzical Mind Yo!
Contact Muzical Mind Yo! for any query